Ashley is a passionate girl-focused scholar-practitioner. She specializes in creating meaningful opportunities to engage adolescent girls and working with practitioners to better understand and meet the needs of girls. In 2011, Ashley started Enhancing Girlhood consulting to help practitioners better reach, engage and serve girls. Her clients have included UN agencies, international NGOs, government agencies and schools and universities. This work led her to serve girls in the US, Indonesia, Ethiopia, Kenya, the DR Congo, and across the Middle East and North Africa.
Specializing in conflict and fragile settings, Ashley spent three years responding to the needs of Syrian refugee girls and girls inside of Syria during the ongoing crisis. In 2016, Ashley developed guidance for the United Nations Refugee Agency (UNHCR) on preventing and responding to child marriage in the Syria crisis. She then served as the director for Mercy Corps' new Girl Center, a strategic knowledge and information hub for adolescent girls in the Middle East and North Africa. Under her leadership, the Girl Center piloted girl-led research in the Middle East, with Syrian refugee and Jordanian girls collaborating to investigate the impact of gender-based violence on their safety in their communities.
Since 2014 Ashley has been blogging for Girls' Globe, a communications organization with a global platform to educate and inspire action on issues related to human rights, social justice and gender equality. She reported for Girls' Globe as a Media Fellow at the 2016 Women Deliver Conference. She has served as guest writer on girls for organizations and advocacy initiatives like K4Health and The Center for Education Diplomacy and Leadership. Ashley has been interviewed and featured by initiatives such as Family Planning Voices and the Inspirational Women Series.
Ashley earned a doctorate in philosophy in Leadership and Change from Antioch University in 2014. She also holds a MA from Skidmore College and a BA from the College of Wooster. She is trained in Girl Meets World, Immunity to Change and crisis intervention for survivors of sexual violence. She taught at Antioch College and Sinclair Community College, and has written numerous academic papers and chapters on sexual violence against girls, child marriage and girls' leadership. She speaks English, French and German fluently and has working knowledge of Serbo-Croatian and Arabic.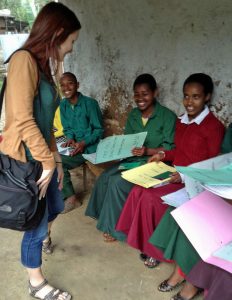 Along with her professional work, Ashley is the co-founder and volunteer director of Enhance Worldwide, a nonprofit organization that provides girls in Ethiopia with access to education and social resources. She volunteers to provide crisis support on the National Sexual Assault Online Hotline, which is operated by her favorite domestic nonprofit, RAINN. In her spare time, Ashley runs and skis, listens to Tori Amos and loves drinking good coffee. She has two daughters and two cats. Originally from Pennsylvania and often on the road, today Ashley calls Yellow Springs, OH home.